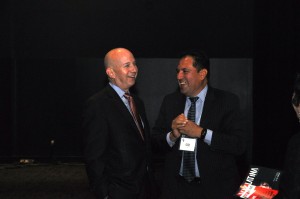 More than 500 people, including Delaware Governor Jack Markell, met to address the needs of Delaware's Latino population and set goals for improvements.
"Connecting Through Education for a Brighter Future" was the theme of the second annual Delaware Latino Summit held October 22 on Wilmington. 
Through a number of discussions and sessions, participants established two crucial goals that would provide better educational opportunities for Latinos: Increase the number of teachers for English language learners and for English as a second language, and hire more Latino teachers.
"This annual event is crucial because it allows Latinos from all walks of life to unite and engage in dialogue with elected officials, state agency and community leaders, and for-profit executives about how to make Delaware a better place to live and work," said Javier G. Torrijos, chair of the Delaware Hispanic Commission. The Commission sponsored the event. 
Specifically, the summit strives to further the Commission's Hispanic Public Policy Agenda, which is a blueprint for advancing the Latino community in the areas of economic development, civil rights, health and social services,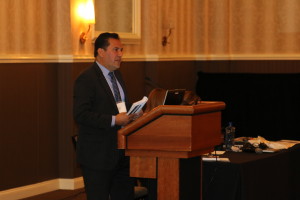 government accountability, immigration reform and education.
A highlight of the summit was Gov. Markell's address in Spanish to the audience during the plenary session.
"We understand that that dream of the Latino community is the same as the American dream. You want an opportunity to work, start a business, go to college," he said.
Gov. Markell congratulated the Hispanic Commission on a tremendous accomplishment in 2015: The adoption of Senate Bill 59, which created a driving privilege card option for undocumented residents.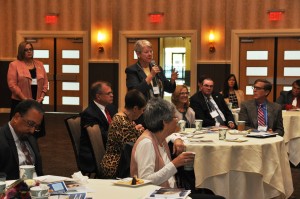 The event keynote speaker was Dr. Daniel Rich, Professor of Public Policy at the University of Delaware. Other state dignitaries in attendance were Jennifer Cohan, Secretary, Delaware Department of Transportation; Rita Landgraf, Secretary, Delaware Health and Social Services; John McMahon, Secretary, Department of Labor; Dr. Steven Godowsky, Secretary, Delaware Department of Education; and Anas Ben Addi, Director, Delaware State Housing Authority.
Some 60 sponsors and exhibitors were on location to present products and services available to the Latino community. Participants interacted in person and through on-the-spot virtual input using the Train by Cell mobile app.
T
he Delaware Hispanic Commission, whose members are appointed by the
governor, meets bi-monthly to address the most important needs of the First
State's rapidly growing Latino families. More information is available at hispanic.delaware.gov and Delaware Hispanic Commission in Facebook.
Sent by ​
Charito Calvachi-Mateyko, Co-Chair​ of the
Delaware Hispanic Commission