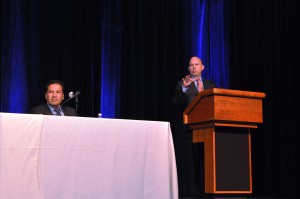 Organizada por la Comisión Hispana de Delaware en el Chase Center del Riverfront en Wilmington, fue un gran éxito. Más de 500 personas se dieron cita el 22 de Octubre del 2015 para desarrollar el tema: Conectando a través de la Educación para un Futuro Brillante.
El Gobernador Jack Markell felicitó a la comunidad hispana por sus logros después de la primera Cumbre Latina realizada en el 2014, destacando nuestra participación cívica para apoyar la tarjeta de privilegio de manejar. Estas fueron algunas de sus palabras, las cuales brindó en español: "Yo quiero decir muchas gracias a Javier y todos los miembros de la comisión por su servicio. Yo creo que su trabajo es muy importante por el futuro de nuestro estado. Y durante el año pasado ustedes demostraron que si nosotros trabajamos juntos nosotros podemos hacer mucho. Y especialmente en este año, la tarjeta de conducir es posible solamente porque muchas miembros de la comunidad hispana trabajaron mucho con los senadores y con los miembros de la casa de representantes. Aunque yo tengo la oportunidad de estar aquí y puedo hacer un discurso a ustedes, el hecho es que ustedes merecen el crédito, y yo creo que es importante que nosotros comprendamos que el progreso de la tarjeta de conducir es solamente un ejemplo de mucho mas, de educación, de la salud, de la transportación, y el casamiento, y muchos sujetos. Y probablemente más importante para nosotros es que comprendamos que el sueño de la comunidad hispana es exactamente lo mismo que el sueño americano. Para mi, yo estoy muy orgulloso de tener esta oportunidad de trabajar con todos ustedes para mejorar nuestro estado y por eso muchas gracias por la oportunidad de estar aquí".
Los asistentes tuvieron oportunidad de dividirse de acuerdo a temas y brindar sus aportes para la Agenda Política Pública para la comunidad Latina en Delaware. Algunos de los grupos fueron: Salud y Servicios Sociales, Educación, Transporte, Vivienda, Desarrollo Económico, y también Liderazgo Juvenil.
Algunos de los patrocinadores del evento fueron: Diamond Sponsors: Delaware Health and Social Services, LACC, Univisión 65. Platinum Sponsors: Delaware Hispano Magazine, DMV, DART, DelDot, Delaware Economic Development Office. Gold Sponsors: Christiana Care Health System. También, Bank of America, $tand By Me, Delaware Commission for Women and Delaware Division of Human Relations, Los Taxes, Máxima 95.3 DM, PNC Vank, Sir Speedy of Wilmington, Train by Cell, El Tiempo Hispano, Hoy en Delaware, Hook PR & Voz Latina, Alliance Realty and Meridian Bank, Highmark Health Options, Nanticoke Health Services, Patterson Schwartz Real Estate.
Una de las principales voluntarias, Deborah Torrijos, envió la siguiente lista agradeciendo a otras empresas e individuos que ayudaron con la Cumbre Latina:
DHC themselves gave $500 for School & decoration supplies, Delaware Cadillac – Matt Kersey & Larry Price gave the 3,760 pencils, D A.L.L.E.- Delaware Assoc of Latino Law Enforcement , Nichols & Gilmore Funeral Home, Council Woman Maria Cabrera, Councilman  'Bud' Keely, Smyrna Massage & Wellness, Sams club, Walmart, Dry Clean Express (DBA FEMA Dry Cleaning  Margarita Resto and Felicia Melloni), Calvary Assembly, Coleman Farms, Anna Lopes & Wallef Nogueira.
Deborah Torrijos también agradece a los siguientes voluntaries: Ana Santos, Elda Morales- niños: Ramiro, Melissa y Emily, Cristina Reinoso, Agapito Rodriguez, Brunys Bail Bonds volunteers: Bruny Mercado, Kenneth Wright, Javon Redden Britni Bishop, Carley Campbell, Anthony Matos , Rissa Asnan, Fred Comegys from Comegys Bar. Nuestras Raices DE inc Volunteers: India Colon,  Sandy Johnson, Madelyn Colon, Will Resto, Eliana Johnson. Delaware Hispanic Pageant  Caitlyn Resto-Miss Hispanic DE Kathia Chupany, Odalys Colon Mariana Ayala- Junior Miss Hispanic DE Thalia Sanchez Dymaris Soto Colon y sus padres.