The Hispanic-American Association of Delaware with the support of the Delaware Art 
Museum
and the Delaware 
Division of the 
Arts presents the Day of the Dead Festival: beautiful offerings, characters from the film Coco, "catrinas," folkloric music and dances, crafts and activities for boys and girls.

DAY OF THE DEAD IN DELAWARE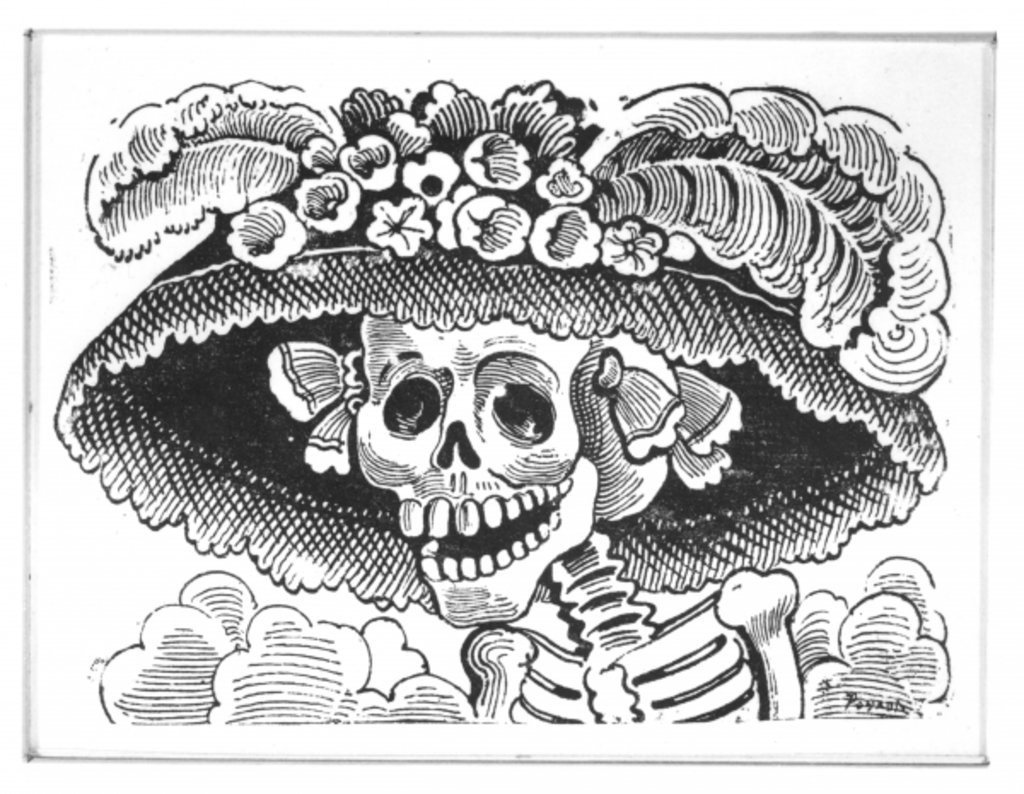 EVENT SCHEDULE
PERFORMANCE
Seylin Abarca

12-12:20 pm  
Seylin is an 8 year old with a heart as big as her talent. She will be performing a variety of songs, some from the movie Coco.
*Trio Voz y Sentimiento

12:30-1:30 pm 
A trio, consisting of

a group of three musicians, will delight us throughout the event with their traditional Mexi

ca

n and Latin music.
HAAD's Mexico Lindo Dance Group
Ballet folklórico

is a collective term for traditional Mexican dances that emphasize local folk culture with ballet characteristics – pointed toes, exaggerated movements, highly choreographed.
Aztec dance

is the denomination of performing ritual acts with corporal movements accompanied by rhythmic music produced mainly by percussion instruments . Understanding "ritual acts" as the periodic repetition of symbolic actions with a spiritual or psychological purpose. The corporal movements are both repetitive and symbolic.
A price to the best catrina/catrin will be presented.
Joel Miranda (la voz del momento) will perform a surprise show alongside a special guest. Joel Miranda is a great singer with a long and successful career that has supported multiple events through his music.
STATIONED ACTIVITIES
12:00-3:00
Greeting Table – Event program available
Dia de Muertos Mural
– by Pedro Reyes
1
Arts and crafts
Calaverita decoration – Decorate your own sugar skull

Paper flowers – Make beautiful flowers out of paper

Calaverita mask – Use your imagination to make a sugar skull mask

Ghost Lollipop – Make lollipops inspired on ghosts
Painting and Art exhibition
– by Pedro Reyes and Gabriela Rojas
Documentary
(orientation gallery)
*"Ofrendas" (Offerings) exhibition (Lobby/Lower level)
*Sample Day-of-the-Dead bread (Lobby)
*Tomb expo (outdoors) (Bernard Fetch Sculpture Terrace)
KIDS ACTIVITIES  (Kids corner)
12:00 – 3:00
Payasita Ranita –
"Ranita the clown" is a charismatic and enthusiastic kids entertainer who will be doing face painting and coloring with the kids around the topic of the Day of the Dead.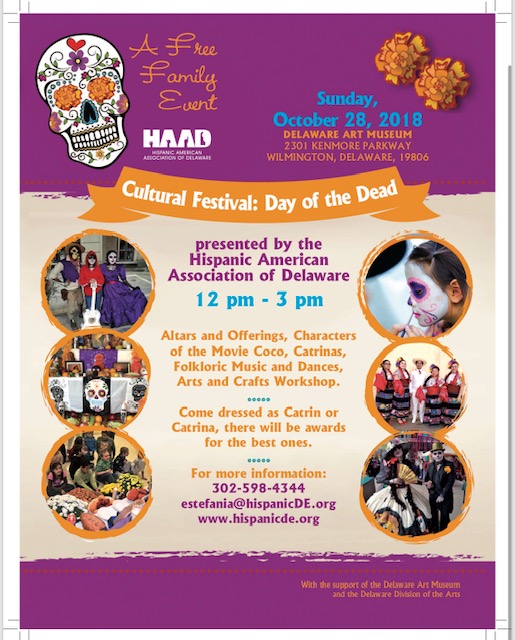 We invite you to dress up as Catrín or Catrina, there will be prizes to the best. There will also be snacks available to buy. •
More info: estefania@hispanicde.org | 302-598-4344
La Asociación Hispano-Americana de Delaware con el apoyo del Museo de Arte de Delaware y la División de Arte de Delaware presentan una celebración llena de :
hermosas ofrendas, personajes de la película Coco, catrinas, música, danzas folklóricas, manualidades y actividades para niños y niñas.
•••••••••••••••
La asociación presentará varios altares honrando a los muertos y bailes folklóricos por el ballet folklorico, México Lindo de la Asociación Hispano-Americana.
•••••••••••••
Le invitamos a disfrazarse de Catrín o Catrina, habrá premios al mejor. También habrá snacks disponibles para comprar.
•••••••••••••
Más información: estefania@hispanicde.org | 302-598-4344
---