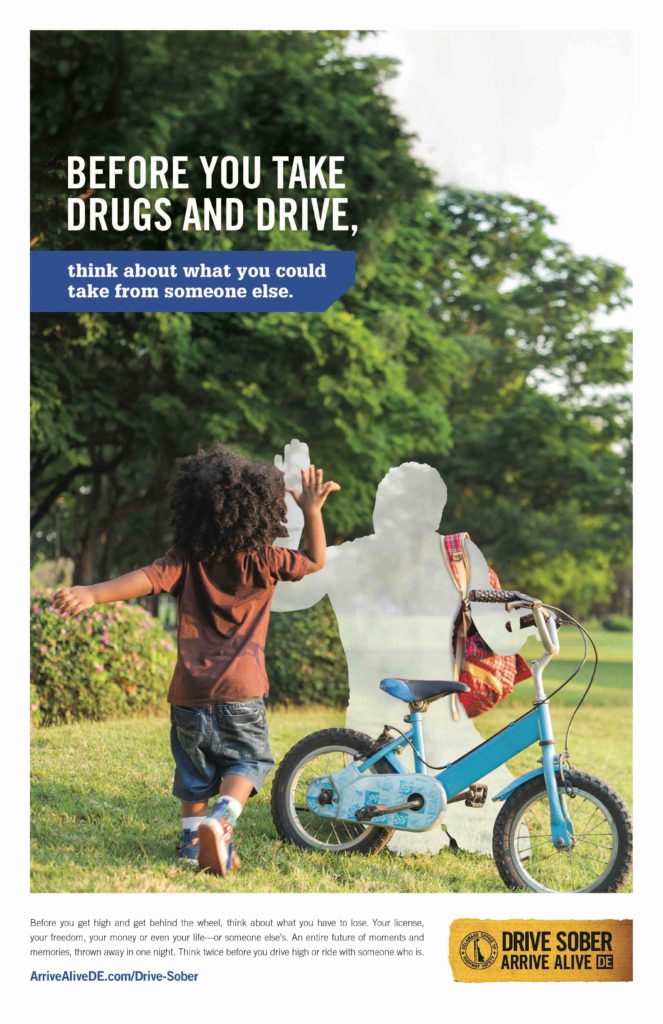 Office of Highway Safety Launches New Education Campaign to Bring Awareness to the Dangers of Drug-Impaired Driving and Prevent Fatalities on Delaware Roadways

OHS launches an aggressive education and outreach campaign to discourage driving while impaired by any substance—painting a dynamic picture of the dismal futures caused by drugged driving and tackling the misconceptions about driving under the influence of legal and illegal substances.


DOVER, Del. (August 3, 2020) — The Delaware Office of Highway Safety (OHS) announced the launch of its new education and outreach campaign aimed at stopping Delawareans from driving at anytime while under the influence of any substance­­—including drugs, as well as substances that are both legal and illegal in the state. Through dynamic visual and written messaging, campaign materials work to bring awareness of the dangers of drug-impaired driving with the intention to change an individual's thought process before she or he gets behind the wheel after using a substance that can impair driving. The campaign gives people a not-so-happy view of the long-term consequences of acting on the short-term desire to "not miss out" by using drugs, and then driving.

"It's human nature not to want to 'miss out' on the fun or a special occasion. Unfortunately, this is often the strongest temptation leading a person to get high or use a substance that will impair their ability and get behind the wheel. When you're in the moment or feeling peer pressure, sometimes doing what is right for your safety isn't always the strongest motivator. But more and more people today are motivated to do what is right for the benefit of their friends, families, and neighbors. Our campaign messaging leverages this as well," said Richard Klepner, Deputy Director and Impaired Driving Program Manager, Delaware Office of Highway Safety. "What our campaign works to do is have people stop and think beyond that immediate need or gratification—to see what comes next, which is often harm done that will cause them and/or others to miss out on much more. If we can help people realize the dangers of drug-impaired driving, what it can prevent them and/or others from experiencing in their future—milestones, celebrations, family, and fun—we will motivate drivers to make the sober choice and find a safe ride home."

The campaign, which will run through Sept. 4, 2020, takes a multifaceted approach to its messaging, focusing on several key points to stop dangerous behavior and end misconceptions about drugged driving:
People should never drive while under the influence of substances of any kind.
There is no such thing as safe driving if there is even a slight chance that the substance can impair cognition, reaction times, and motor skills—this includes drugs that are ingested, injected or inhaled, including marijuana, opioids, and methamphetamines.
A substance may be legal, such as marijuana or a doctor-prescribed medication, but that does not make it exempt from impairing an individual's ability to drive. In states where marijuana is legal for consumption, it is still illegal to drive under the influence of the drug.
Statistics prove the point: Driving under the influence results in a significant number of deaths and life-altering injuries.
Not "missing out" now by using drugs and driving very well could mean a person will miss out on so much more in the future. They may lose the opportunity to experience every special event in the future.
Delawareans have a responsibility to each other since driving under the influence not only impacts your future but can also damage or end the lives of others.
Key visuals of the campaign provide a thought-provoking scene of iconic happy moments in life—from graduations and weddings to teaching a child how to ride a bike—with a key adult participant at this moment missing from the scene. The messaging is dynamic and motivational in urging people to take a minute to think about what they could miss, or cause others to miss, by taking an impairing substance and then driving. Complementary communications will work to combat many of the misconceptions around certain substances and their impact on driving by providing clear-cut facts. For example, the idea that marijuana can make someone a better driver is false—research shows it impairs motor skills, lane tracking, and other abilities critical to safe driving. In fact, after alcohol, marijuana is the drug most often found in the system of drivers involved in crashes.

The campaign message will reach target audiences via paid social media and radio spots, as well as aggressive grassroots and partnership outreach.

OHS encourages all Delawareans to practice the following responsible behavior:

If your use of a drug has made you impaired, designate a sober driver, call a cab, or use a ride-sharing service.
Don't let friends get behind the wheel if they're under the influence of any type of drug, even prescription drugs.
If you're hosting a party where impairing substances will be used, it's your job to ensure all guests leave with a sober driver.
Always wear your seat belt; it's your best defense against impaired drivers.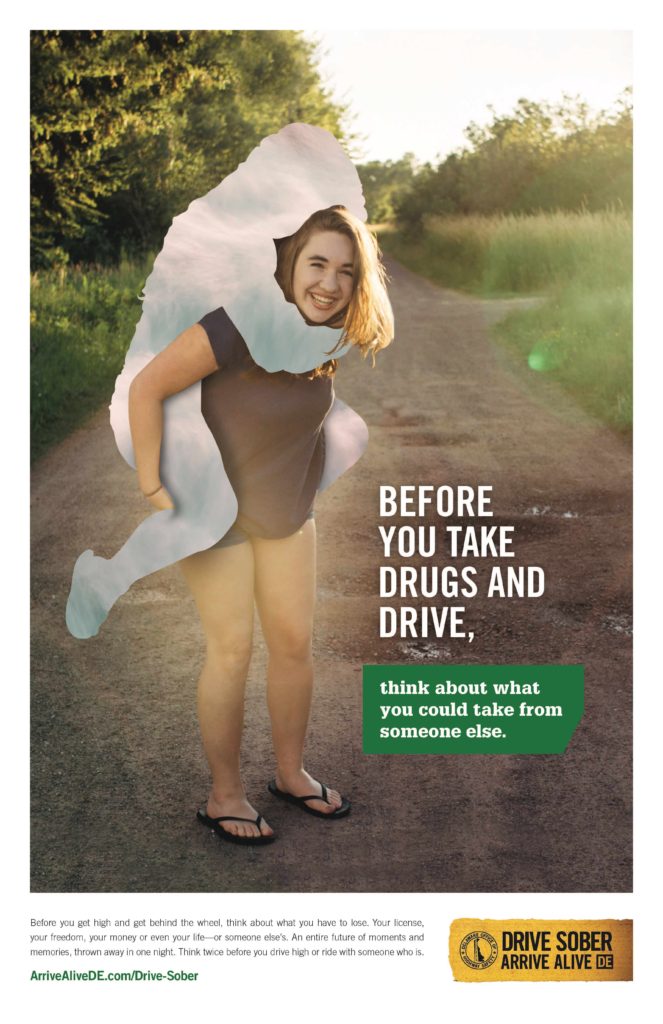 Visit here for campaign materials.

Follow the Delaware Office of Highway Safety:
Delaware Office of Highway Safety Website
Facebook
Twitter
Instagram
YouTube