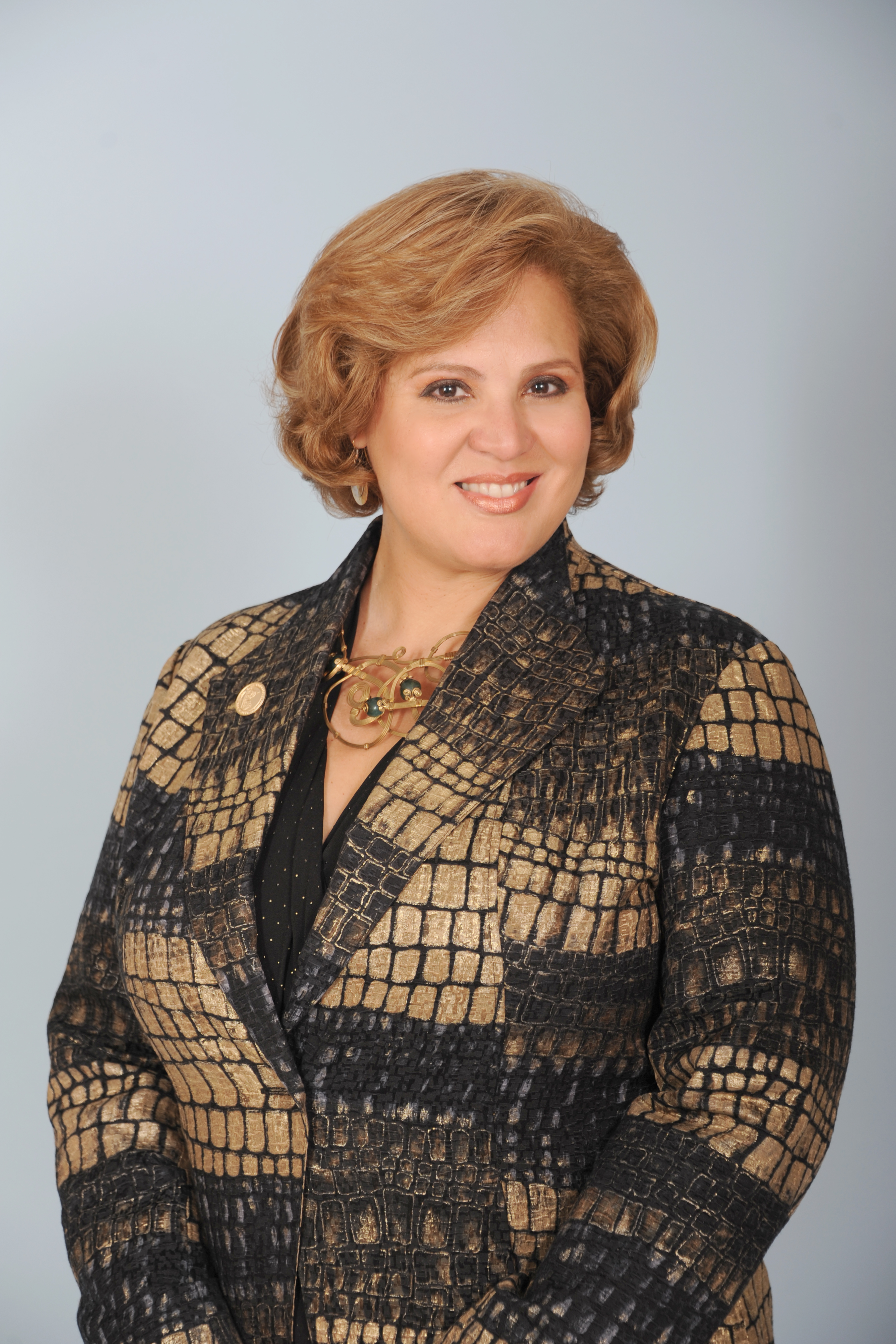 Maria de los Angeles Cabrera is the first Hispanic woman elected to office in DE, and to serve on Wilmington City Council. Maria was elected as an at large Councilmember on November 7th, 2012, after winning the primary in a crowded field of eight candidates on September 11, 2012. At Large Councilmembers represent all of Wilmington, and are elected city-wide.
Maria D. Cabrera is now a candidate for the Mayor of the City of Wilmington and when elected, on September 13, 2016, she would be the first woman voted into that office, and the first Hispanic.
Maria's history in politics began as a teenager working with her mom, Ruperta Morales, in numerous campaigns in her hometown of West Chester.  She attributes her mother as setting the example of helping others and true community service. After moving to DE 27 years ago, Maria continued her involvement and volunteered with the election of the first African American Mayor, James H. Sills. Jr. Maria later became the Mayor's receptionist and a few months later the Special Events Director for the Office of Cultural Affairs. She also campaigned with the late Attorney General Beau Biden, his father then Senator Joe Biden, (Now VP of the US) and Gov. Jack Markell to name a few.
Maria created and produced the City of Wilmington events and assisted non-profits who held events in Wilmington.  Maria has served the City for 10 years in both roles and understands the operations of the City.
Maria became the Director of Education and Community Relations for the Grand Opera House, where she performed community outreach.  She was recruited by the late Mr. James H. Gilliam, Sr. Civil Rights Activist and Change Agent. Mr. Gilliam, Maria's mentor said to her, that "She was to the Hispanic Community what he was to the African American Community." He believed her to be a true leader, and a voice for Hispanics throughout DE.
Maria has served on over 20 boards. Most notably: West Side Health, the Hispanic Festival, Director of  Miss Hispanic DE, the Governor's Advisory Council for Hispanic Affairs. As chair of the Economic Development Committee she focused on Business Dev. and Financial Literacy. Maria later became the President of the Hispanic Business Association of DE, which she and other business leaders founded. Helping small businesses grow is her priority!
Maria has been a strong community leader long before getting elected. Getting out to vote is very important as that is how your voices can be heard! Electing leaders that will represent you and be a voice for all the people is very important. Maria has proven to be that kind of leader. She has the experience to lead the City of Wilmington.
Maria says, "When you are challenged to lead, you must answer the call."  Taking on the challenges and controversy that face the Mayor's office is one Cabrera understands first hand and is willing to accept.  "I have been a hardworking hands on Council member, and have introduced common sense legislation that addresses nuisance problems in neighborhoods."
She believes we must hold everyone accountable for the disruptive behavior that has brought many of the Wilmington neighborhoods down. Her legislation holds the people engaged in that behavior accountable as well as the property owners and businesses, such as liquor stores and corner stores by restricting their business license.  
As Mayor, Cabrera will continue working hard to bring economic development opportunities to Wilmington. "Jobs are very important if we are to deal with the poverty and crime in Wilmington. Increasing homeownership and investing in our neighborhoods is key." Her Public Safety initiatives include putting police sub-stations and constituent services in the neighborhoods; smaller areas for Police to patrol and bringing back community policing. Ensuring our Seniors concerns are heard by having a Senior Advocacy Ambassador. Advocating for our youth and offering opportunities for them in every neighborhood. These initiatives will take strong community collaboration, something that Maria does well. She brings people together to work on common goals.  She believes we are "Stronger Together!" She is excited to be on the verge of making History along with the first female candidate for President, Hillary Clinton (D).  
Other priorities for Cabrera Administration include instituting an Office of Intervention and Prevention, focusing on
ReEntry Pipeline – stopping Recidivism

Youth Empowerment

Education

Workforce & Job Development
Cabrera says, "We need to send a clear message that Wilmington needs change; the best way to do that is to vote for me on Tuesday, September 13. If you are happy with the way things are, vote for the other guys!"
For more information on Maria and her candidacy and to learn how you can offer your support, visit www.mariadcabrera.com or call 302-559-9489.